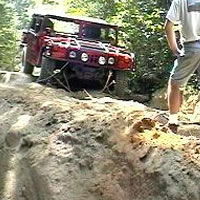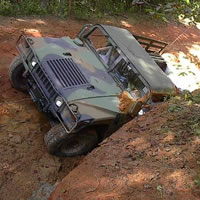 Click for more photos
Ben Lappin's Labor Day Ride - 2003
Ben Lappin mailto:ben@superiorfreight.net

Started early Sunday morning at 7:00 meeting up at Kascar in Greenville, SC at the Donaldson Center.
From there we loaded up spare tires, spare parts, and lots of water.
Driving up Hwy 25 early in the morning it felt good to be riding with other Hummers.
We arrived at the location off of Hwy 25 in Travelers Rest, SC and started our adventure.
The first obstacle was not that bad if you knew what you were doing.
I being new at this at a little bit of difficulty but the guys at kascar helped me learn BTM.
After that we came up the first challenge. The Cliffs.
The cliffs is a trail that goes of the right side of about a 8 foot gorge.
We had to use the winches to get through it b/c of mounds of dirt but after shoveling and digging and winching we all got through it.
After that there was the gully.
The gully was section where there was most likely going to be some body damage (scratches & broken mirrors) where you had about a couple inches on either side of the vehicles to take it through.
We all made it through after modifying the sides of the gully with only 2 broken mirrors and a couple scratches.
After that it was up the Big Red.
Big Red was an obstacle that only Dennis went through.
Big Red starts out with the passenger side leaning into the side of mounds of dirt, then it switches to where the driver side is leaning.
After about 1-2 hours we finally got through it with the help of the winch.
After this we decided to turn around and head back through everything we had just been through to head back home.
We had a blast.